400 S.MORGAN ST, GRANBURY TEXAS 76048 817-579-8077 MON - SAT 9AM - 6PM
C & J Butcher Shop has the finest cuts of Quality Meats, Pork and Poultry in Granbury, Texas.
PRIME Sirloin Steaks

Chuck Roast

Ground Chuck

Pork Chops

Cube Steak

Chicken Breasts

Whole Chickens

Beef Cutlets

Fresh Bacon

Ham

Baby Back Ribs

Briskett

Sausages

Seafood

Steaks
Welcome to C & J Butchers
Opened in March 2005 by Chris Bachhofer and Jerry Crowe - back when fresh meat markets were becoming a thing of the past, and most people thought we were crazy - we've quietly become a trusted fixture in our community.

Since 2008, Chris and his wife, Cathy, have been sole owners and continue to be your source for fresh meats, personal service, and value without sacrificing quality! Beyond our full array of fresh beef, chicken, pork, and wild caught seafood, we also make our own sausages, jerky, bbq sauce, and BBQ to go. We're simple, honest people who use simple language, without confusing or misleading phrases and buzzwords.

We value our customers and enjoy getting to know them by name (and order!), often taking time to talk recipes or share life events. As we head toward 20 years in business with 35+ years experience, we're confident in our ability to be here for you, our customers, who take time to shop with small businesses and trust us to serve them in a way that makes their day just a little bit more positive.

We are conveniently located just off 377, at 400 South Morgan Street, Granbury, TX 76048. Visit our contact page for directions.
Visit our Facebook Channel for our Flash Sales
BBQ -to-GO: DAILY 11am: Brisket, Baby Back Ribs, Smoked turkey breast (no lunch meat here!), whole smoked chickens. By the pound, or sandwiches. Drinks, Chips, Potato salad or cole slaw available.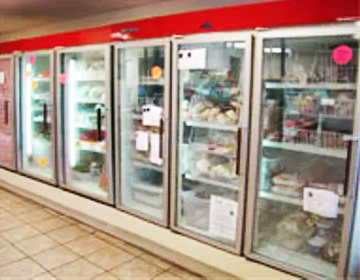 FREEZER PACKS
Save time and money with our fresh, cut- to- order Freezer Packs.

Choose from a variety of packages that include Sirloin Tip Minute Steaks, Cube Steak, Chuck Roast, Pork Chops, Chicken Breasts, Whole Chickens, Beef Cutlets, Ground Chuck, Bacon and more!

Freezer packs completed on demand. Not available with other discounts. May not be available same day, based on supply. Call us whether you are visiting us on our website or on our social media channel.

Wide Variety of Spices are available!
We carry a wide selection of seasonings, spices, rubs, bar-b-que sauces, steak sauces, marinades, entree side items, condiments, and more.
Family Pack - 18 LB
4 Chicken Wraps ( U Choose)
Plus 3 lb each
Bacon
Ground Chuck
Flat Iron Steak
Chicken Breast
Pork Chops
Penny Pincher - 14 LB
2 Chickens (whole or cut up)
Plus 2 lb each:
Ground Chuck
Pork Chops
Beef Cutlets
Chicken Breasts
Dollar Saver 8 LB
1 Chicken (whole or cut up)
1 lb Bacon
2 lb Ground Chuck
2 lb Pork Chops
We Accept:
All Major Credit Cards
Snap
Built in cash
Local Check Discount Every Day
Gift Certificates Available